Both shared and VPS hosting servers are widely used and remain the most preferred service. Many users choose to select one of these options for their web hosting service, mostly because both of these alternatives have significant benefits. 
However, each of these services is quite different from one another when you look into more details. Even though both shared and VPS Hosting Server works on similar infrastructure, the characteristics, resources, and other essential features differ vastly from one another.
A dedicated server is another option for you to use, but many people who work on strict budgets worry about its expensive costs. For your e-commerce platform, you may need a highly advanced option, best matched to meet your high-traffic requirements. 
In this post, we will introduce you to the basic information regarding both Shared and VPS server hosting. Further, by looking at their advantages and disadvantages, you will stand in a much better place to choose the option that fulfills your needs optimally.
Shared Hosting: Overview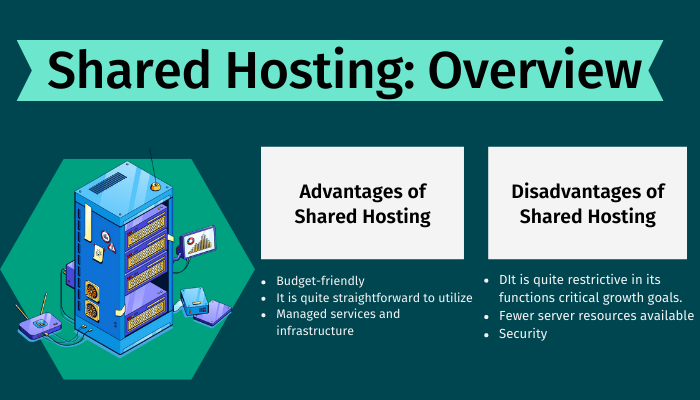 The name of this solution pretty much explains its functions. A shared server hosting is a web hosting arrangement in which several users at the same use its services. Consider it as a shared residence with several residents to help you analyze it properly. Likewise in a shared common room, you will share the same space, in a shared server hosting setup; you get a commonly shared workspace. Resources such as your CPU, bandwidth, storage, and other features will get shared with other users. 
Now, your website performance will depend on the number of users present on this service. If more websites utilize the same workspace and resources, you will see your site performance getting influenced on a significant level. Typically a shared hosting service is quite cheap compared to other services. The main reason for this is its shared expense environments, you will essentially share the cost of your web hosting with several other users.
Advantages of Shared Hosting
Budget-friendly
A shared server is one of the most inexpensive services in the market. In several instances, you will share the server's space and its resources with multiple users. Therefore, the expense will likewise get split between all users. This type of service is best for someone who works on a tight budget and wants to immediately create an online presence.
Some come up with a unique idea as Steve Jobs did. Others just model on the ramps or star in movies. While some people just make use of the services like Spectrum premier TV service and bet on which team will win in a certain game.
It is quite straightforward to utilize
A shared web hosting server is simple to manage compared to other services. The setup of the service remains uncomplicated, as most users of this service are beginners. Most service providers of this solution offer easy-to-use management tools for the benefit of simple administration. If you don't have much knowledge of technical components associated with a web hosting server, shared hosting is well suited for your needs.
Managed services and infrastructure
When you use a shred server for your website, you don't have to spend time and energy administering your server. Most service providers offering this service will similarly offer managed plans. Fundamentally all the important actions associated with server management get accomplished and counted by your service provider. 
Tasks such as regular maintenance, updating certain apps, or securing your network will fall on the shoulders of your chosen service provider. It will be best if you get assured services for technical components from your expert service provider team.
Disadvantages of Shared Hosting
It is quite restrictive in its functions
When you work and operate your website on a shared server, you will soon find out its restrictive aspects. Working on this server is not complicated as we said before, however it can showcase certain limits. For instance, you will have limits on resource utilization or your root access privileges. Also, when you want to change certain key elements of your service, you get faced with limitations on upgrading the platform.
Fewer server resources available
When your website is on a shared server going to obtain a high volume of traffic, you would need more resources to accommodate this heavy workload. However, the shared server doesn't allow expanding your resources as per your demand and needs. This factor can get challenging once your business begins to expand its reach. This is a negative feature that will eventually decrease your website performance and create a bad user experience.
Security
As you might know, the safety and protective measure of your website is one of the most crucial factors that need proper attention.  However, on a shared server, your website will share all aspects of safety with other users. Also, you will share the same IP address with others, therefore if one user acts inappropriately or behaves badly, then it will leave a negative impact on your website performance. The chances of facing downtime or getting blacklisted are high on a shared server hosting setup.
VPS Hosting Server: Overview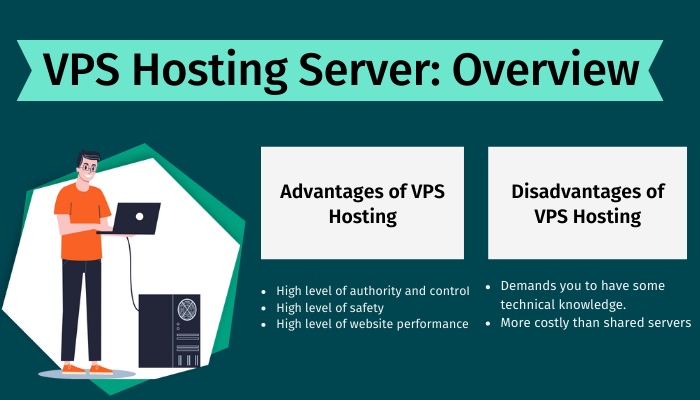 A VPS server is a commonly used web hosting platform by many different kinds of businesses and users. In a VPS setup, a massive physical server will get divided to create multiple small VPSs. This type of procedure gets conducted with the assistance of virtualization technologies. After separating these servers, they get concealed and segmented by virtual walls. 
Although they get placed on the physical server offered by the service provider, each server will have the capability to function as a separate server. With a separate operating system and resources required in a web hosting service, each VPS functions optimally to deliver great results. 
Unlike a shared server, there is no outside users' influence on your website performance, as you will get work in an isolated space. With this functionality, you also get control over your resources and features. Therefore, whenever you feel the need to upgrade certain elements or improve a feature, you can easily accomplish this on  VPS Server Hosting. 
Typically, when your website is receiving a moderate amount of traffic volume, a cheap VPS hosting solution is the best match to fulfill its requirements. A highly functional Best VPS hosting is somewhat similar to a dedicated server in terms of its resources, control, and features, however, it is a less costly option.
Advantages of VPS Hosting Server
High level of authority and control
On a VPS hosting server, you get entitled to install or delete any apps or software as per your needs.  Fundamentally, the entire server gets configured based on your parameters. With root access control, you get the charge of performing major changes to the system that can boost your performance levels. Also, you can upgrade your security levels by adding more advanced firewalls or other key elements that process better protection. Unlike a shared server, there are no limits on your functions. A Managed VPS hosting server is the best choice for your website, as it can expand alongside your platform.
High level of safety
A VPS hosting server works and performs its activities in isolated backgrounds. There are no outside users' influence and interruptions negatively affecting your website. Therefore, this level of isolation results in better protection of your website. For instance on a shared server, when a website of some other users gets infected with a virus, your website will also get impacted. 
However, on a DDoS-protected VPS, your website remains separated from other websites, and similarly, their actions cannot hurt or endanger your performance. Also, with full control, you can install more apps and software targeting website security and data protection with great consideration.
High level of website performance
With the benefit of using dedicated resources and working on an isolated platform, a VPS hosting server for sure delivers great performance levels. Your allotted resources are yours to utilize and also without any interference you can expand them as per your current needs. A reliable service provider for your VPS hosting server offers high network connection and availability, therefore your website will remain active all the time. With no downtime, you get to experience faster website performance and seamless functions on web pages. In other words, if you want a more stable, reliable, and effective web hosting solution, then get a Cheap VPS server plan now for your website.
Disadvantages of VPS Hosting server
Demands you to have some technical knowledge
A VPS hosting server is much more complex to use when you compare it to shared server hosting. However many service providers now offer the services of managed VPS plans. In this solution, all your essential tasks related to server management get done by a service provider highly skilled team. 
If you have in the past managed a web hosting server or retain some skill set in using a hosting service, then you can go for unmanaged VPS. So, whatever plan you choose, it is best to first recognize the technical aspect of this service.
More costly than shared servers
When you work on a tightly managed budget, the cost of a web hosting service plays a key part in its selection. As we mentioned earlier, a shared server is the most inexpensive service, which is why most new beginners prefer to utilize it. However, a VPS server on the hand is somewhat expensive in comparison. This slight change in expense get associated with higher security, dependability, and enhanced performance you receive in return. Also, when you compare its expenses to a dedicated hosting service, you will find that a VPS will cost less.
What is a Better Option For an E-commerce Website?
Now that you have understood the basic concepts of both, shared and VPS hosting servers, it is time to select the best option for your e-commerce website.
Many e-commerce websites will receive high traffic volumes and store sensitive customer information. Therefore, to accommodate these requirements you will need a service that offers a greater service for easy traffic management. Also, that service needs to offer higher protection measures to preserve critical data against online attacks and hackers.
The ideal Web Hosting solution for your needs is the Best VPS hosting Server. Essentially, a VPS server is an apt solution for your e-commerce platform, as it delivers easy management of moderate to high traffic volumes. Furthermore, with full root access, you get to obtain high customization power over your web hosting setup. So, when you feel the requirement of adding more secure channels and features, you can do that without much hassle.
Conclusion
When you operate an e-commerce website, the expansion, and its success remains at the forefront most of the time. The framework on which it will run in the long – term, meanwhile, demands your significant attention. It becomes imperative for you to pick the correct web hosting platform to receive great results and performance. In this post, we have examined both shared and VPS hosting servers. Both of these options get used by different kinds of website owners globally, as both options have great benefits.
Considering this post is meant to showcase the best choice between the two for your e-commerce platform. We have concluded that the Best VPS hosting service from a reliable service provider will deliver great functions. Your website can scale and expand as per your regiment with great ease on a Cheap VPS hosting server.