The project was founded in 2017 and was called Matic or Matic Network before it was rebranded to Polygon. The founders of the project were Jaynti Kanani, Sandeep Nailwal and Anurag Arjun, who were active members of the cryptocurrency community and came together to solve the problem of scaling the Ethereum network.
The team worked in two directions:
"Plasma Chains," a second-tier scaling solution based on implementing a "complementary" Proof-Of-Stake (POS) Ethereum blockchain;
The creation of a token, "MATIC," which was released in April 2019 through the Binance Launchpad platform and allowed the project team to raise $5.6 million.
The main "Matic Network" went live in mid-2020 and quickly began to gain popularity in the cryptocurrency community. In part, this was due to a strong increase in Ethereum fees, which showed the market the need to find robust solutions for scaling the main smart contract network.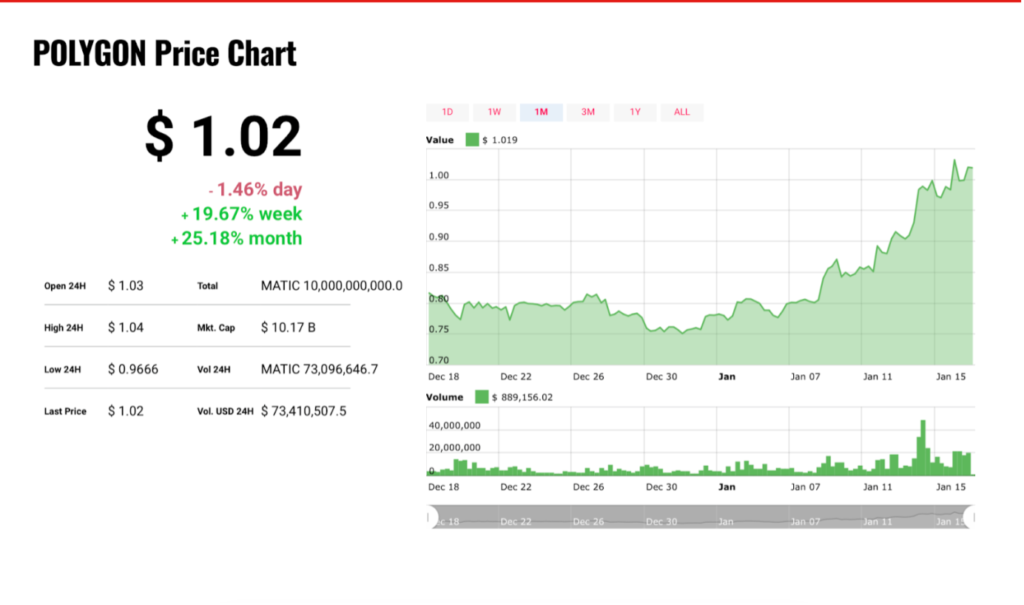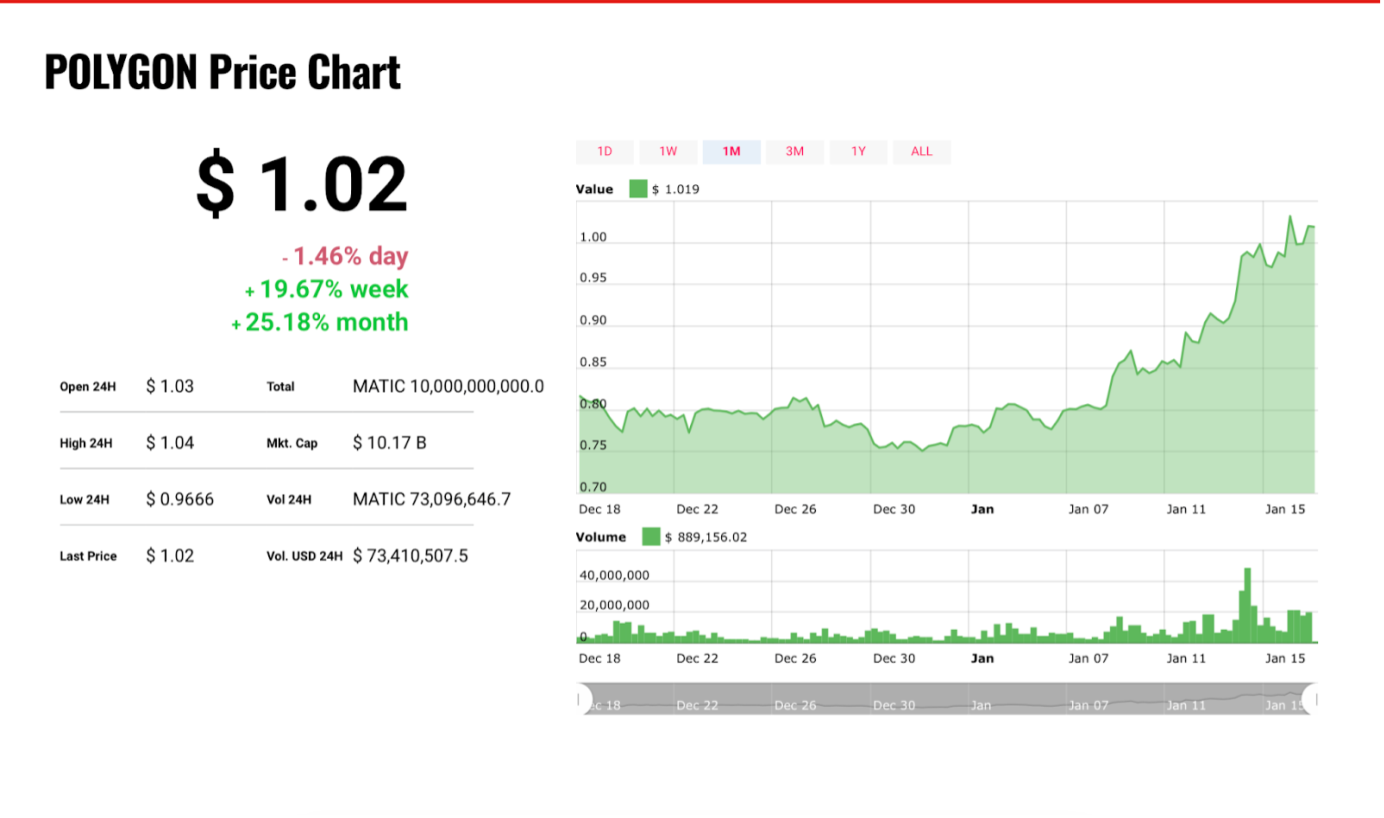 Rebranding Matic Network to Polygon. Polygon live price chart
In early 2021, the Matic team decided to expand the scope of their project and renamed themselves Polygon, a project aimed at creating a more generalized scalability solution. Therefore, the project is more interesting than the Internet Computer live price chart.
There are usually two ways to scale existing networks:
The first, where the security level of the scalable blockchain is used as the foundation. Zk rollups and optimistic rollups are built on this principle;
The second way is to create additional blockchains with their own security rules and consensus mechanisms. Examples of this solution include blockchains such as the "Matic PoS chain" or "xDai.
Instead of providing any one option, Polygon aims to create an ecosystem that makes it easy to connect several different solutions to scale — everything from additional blockchains with different consensus mechanisms to second-tier solution options such as "Plasma," "Optimistic Rollups" and "ZK rollups."
Polygon provides a platform that allows new projects to quickly create their own scalable solution with very flexible customization options. With this feature, the project is similar to Polkadot and Cosmos, which is also a "base" and a unifying link for other projects.
The Polygon network structure
Polygon supports two main types of Ethereum-compatible blockchains: standalone networks and secured networks ("secured chains").
Autonomous networks rely on their own security; for example, they can have their own consensus models such as Proof-of-Stake or Delegated-Proof-of-Of-Stake. These kinds of networks are completely autonomous, which gives them the highest level of independence and flexibility but makes it challenging to create a reliable security model. For example, POS requires many robust validators. This kind of model is usually suitable for enterprise blockchains and established projects with strong communities.
Secure networks use a security-as-a-service model. This can be provided either directly on the Ethereum network or by a pool of professional validators. These validators run nodes in the Polygon ecosystem and can be shared by multiple projects, a concept similar to Polkadot's shared security model. Secure chains provide the highest level of security but sacrifice independence and flexibility. Security-oriented startups and projects usually prefer this model.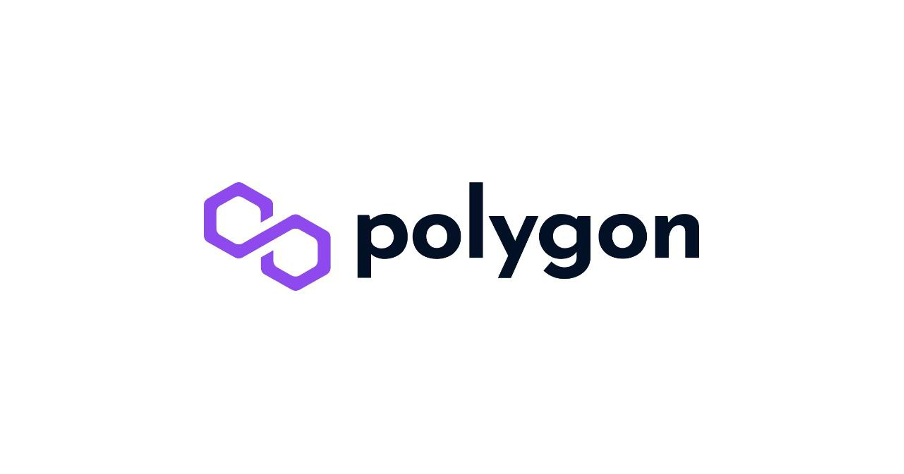 Polygon Ecosystem
Due to the great flexibility of Polygon solutions, the project is constantly gaining new partners and network users. Nowadays, there are 7000 projects and applications, which use Polygon solutions; you can check the full list of projects at the official website. If you don't want to track the development of such a big project, check out Internet Computer price prediction.
Decentralized applications using Polygon
Among DeFi sites you can find QuickSwap, UniSwap, SushiSwap, and Curve Finance. the presence of these sites in the ecosystem of the project shows its acceptance and demand in the industry.
Polygon price prediction
Polygon price predictions are quite optimistic. The current number of coins in circulation is 7.5 billion and the maximum is 10 billion. The current capitalization of the project decreased because of the bearish trend in the cryptocurrency market, but this situation will change in the future. So we advise you to follow the project at letizo.com.